Position 200+ indicates Division II, Position 300+ indicates Division III, Position 400+ indicates Mini Corps.
This corps was the result of a merger between St. Mary's Annunciators of Cambridge MA and the Somerville Cadets of Somerville MA. 1972 might be the only year that they competed in Class B in the Mayflower Circuit, and the Emass Circuit. The corps did not last long.

Of the components of the merger St Mary's Annunciators had a long and interesting history. Formed in 1954 they competed in the Boston CYO Circuit, and the Emass circuit. They wore satin shirts with shakos and plumes. The corps colors were red, white and black. In 1956 they adopted a new uniform and theme. The uniforms were virtually identical to the Hawthorne Cablalleros, and the theme was Spanish.

The corps director was Dick Keough, the Staff included Al Saia on brass, Don Benedict on percussion and Jack Whelan on drill. The move proved successful as they won the circuit Class B championship. As a result of the look and the music people began to call them the Cambridge Caballeros. The corps adopted as an unofficial nickname.

The parish recieved a new priest who was very interested in drum corps, Father John Crowley. Father Crowley was a micro-managing type who had managed to alienate all the lay people and instructors at every parish to which he was a assigned. He had a well earned reputation as a "Corps Wrecker". And yet the Church kept assigning him to parishes that had marching units. This wasn't the first, and it was far from the last.

Within a few weeks of his arrival he fired the managerial staff of the corps and took over those positions for himself. At that point the instruction staff resigned. A promising young corps was in serious trouble.

Dick Keough decided to keep the corps going as a non-church corps. The lay staff joined him, as did the vast majority of the kids, and the instructors. The new corps was named the Cambridge Caballeros, and became one of the finest units ever to come out of the Boston area.

Under Jack Whelan the corps color guard won the National Championship. The corps made the VFW Finals in 1961, finishing 4th, and again in 1962, finishing 8th.

After 1962 the core group that had been there through it all, aged out simultaneously and the corps disbanded.

Meanwhile, back at St. Marys, Father Crowley promoted the Annunciators feeder corps to take over as the Annunciators. They continued as a Class B unit until the merger with the Somerville Cadets and ceased Church affiliation.

Submitted by Gil Norton
CORPS 2 items
Annunciators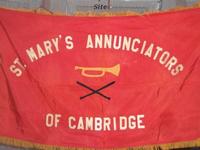 Annunciators,Cambridge-Somerville,MA,FL1-Red(Site)J_U_S from the Richard Elmquist Collection
Annunciators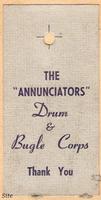 Annunciators,Cambridge-Somerville,MA,Tag1-ThankYou(Site)J_U_S from the Richard Elmquist Collection
LOADING.....