Position 200+ indicates Division II, Position 300+ indicates Division III, Position 400+ indicates Mini Corps.
http://www.facebook.com/group.php?gid=13636205954
-----------------------------------------------------------
Sponsored by Offensive Lions De Jonquiere Inc., the corps was formed seven years ago and currently marches 128 members-64 boys and 64 girls-with an average age of 16. The Offensive Lions were 1978 Canadian Champions and placed 18th in DCI finals. Other titles include Quebec Champions (1975, 1976, 1977). Instructional staff includes:
Horns--Mark Charmichael; Drums--Michel Boulanger; Program Director and M&M--Dan Spalding; Color Guard/Rifles--Sandy Spalding; Drum Major--Gilles Morasse; Guard Captain--Sylvie Morasse. Business Manager is Robert Caisse and Corps Director is Rejean Delisle. The Offensive Lions 1979 repertoire includes "Spanish Overture," "Song of the New Moon," "Birdland," and "Fantasy."
[From the 1979 US Open Program]
CORPS 2 items
Offensive Lions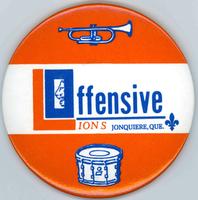 Offensive Lions button from the Bob Carell Collection
LOADING.....