Year
Position
Score
Theme/Songs
No information available
Position 200+ indicates Division II, Position 300+ indicates Division III, Position 400+ indicates Mini Corps.
"The Spotlight
by Frank ( Spider ) Salmieri, John Flecka
STOP....
Go directly to the next paragraph, do not pass Go, do not collect $200.
From the garbage pickers paradise of the World, Brooklyn, New York, John Flecha and Chet Klyn, your faithful drum corps reporters greet you.
This month the Spotlight focuses on the Connecticut Royal Lancers, from Bridgeport, Connecticut. Organized in 1961 this corps has since then risen to national fame. Their first M&M contest was the World Open in 1963 where they captured tenth place among a field of top corps.
The corps is presently a member of the Tri-State, Penn-Jersey, and Northeastern circuits. They field a corps of thirty-two horns, twelve drums, and a color guard of twenty. The Corps boasts of one of the top drum lines in the Nation which includes John Bodnar who has won the National Snare Drum contest in 1964 and 1965. This year the corps has managed to beat their cross-town rivals the Bridgeport P.A.L. Cadets at the World Open.
Their repertoir consist of: "Mad, Mad, Mad World" for the off the line, "I Hear Music", "Theme from the Cardinal", "Once In A Lifetime", "Our Love Is Here To Stay", "When Day Is Done", "Fools Rush In", and their big hit "Downtown" where the girls in the color guard do the "Soupy Shuffle" (for those who wish to know what this is, drop us a line).
The corps recently appeared on television on the "Sonny Fox Show", broadcast on WNEW-TV, New York, on Sunday, Aug. 28.
The Royal Lancers are entirely self-supporting and have no sponsor other than the American Legion Post #16, Shelton, Connecticut (the same post as the Hurricanes) and VFW Post #9460. Their uniforms are all hand made by the parents of the corps members. The Lancers plan to attend both national contest next season.
The corps is taught by Hy Dreitzer on horns, Vinnie Rattford on drill, and Ray Luedee on drums. The corps director is Bill Heagney and the Business Manager is Walt Shanley.
The World of Drum Corps laments the loss of Frank "Spider" Salmieri. but...Have no fear folks, he's not dead yet, he joined the Air Force for a four year hitch.
"Gratznik, Spider ! ! !" "
[From "The Spotlight" article "by Frank (Spider) Salmieri, John Flecka" in the 5 Mar 1966 DCW.]
CORPS 2 items
Connecticut Royal Lancers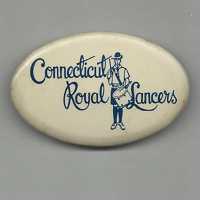 Connecticut Royal Lancers from the Bill Ives Collection
Connecticut Royal Lancers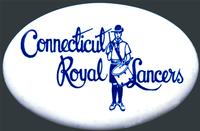 Connecticut Royal Lancers button from the Bob Carell Collection
LOADING.....